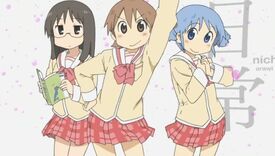 The Trio Sucharaka is a group in Nichijou consisting of three female students, all of whom attend Tokisadame Highschool. Before Nano Shinonome joins the group, the Trio Sucharaka was originally composed of three of the six main characters of Nichijou: Mai Minakami, Yuuko Aioi, and Mio Naganohara.
The article is a Stub!
Yuuko is yelling because this article is not complete

Please expand the article as well as you can!