旅立ちの日に (Tabidachi no Hi ni) is an ending-credits song from Episode 26 of Nichijou performed by Yukko, Mio, Mai, Nano, Hakase and Sakamoto.
Original Version
Tabidachi no Hi ni (On the Day of Departure) is a graduation song created by faculty from Kagemori junior high school in 1991. Principal Noboru Kojima had the idea to write a song to foster unity and the troublesome school, and commissioned respected music teacher Hiromi Sakamoto to compose. After rejecting the Principal's initial draft, Sakamoto was impressed by the revised lyrics left on her desk the next day, and worked on composing during her 15-minute breaks during school.
The faculty debuted the song as a surprise for graduates. Principal Kojima soon reached retirement, and thereafter the song was sung annually by the graduating class themselves. The popularity of the song spread, and has since become a classic graduation song across Japan.
Clip
Tabidachi no Hi ni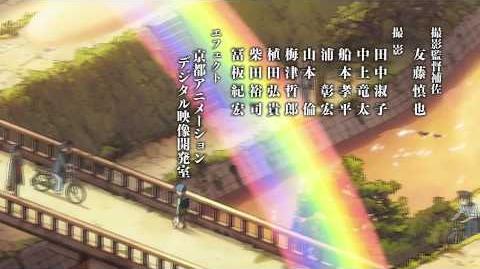 Lyrics
白い光の中に 山なみは萌えて
遥かな空の果てまでも 君は飛び立つ
限り無く青い空に 心ふるわせ
自由を駆ける鳥よ ふり返ることもせず

勇気を翼にこめて希望の風にのり
このひろい大空に夢をたくして
shiroi hikari no natani yama-nami wa moete
harukana sora no hate made mo kimi wa tobitatsu
kagirinaku aoi sora ni kokoro furuwase
jiyū o kakeru toriyo furi kaeru koto mo sezu

yūki o tsubasa ni komete kibō no kaze ni nori
kono hiroi ōzora ni yume o takushite
Ad blocker interference detected!
Wikia is a free-to-use site that makes money from advertising. We have a modified experience for viewers using ad blockers

Wikia is not accessible if you've made further modifications. Remove the custom ad blocker rule(s) and the page will load as expected.