The article is a Stub!
Yuuko is yelling because this article is not complete

Please expand the article as well as you can!

Poem of Yukko emphasizes Yukko's poetic talent, first with 2 haiku's in episode 6 and next with 2 poems in episode 11.
Clip
Poem of Yukko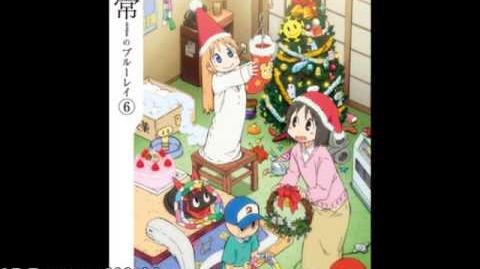 Haikus
Haiku form consists of 3 phrases of 5-7-5 particles.
Note that only the first 2 were Yukko's; while the 3rd one is actually a classic.
First Haiku
Shukudai o
Wasurete rōka ni
Mogami-gawa
Stand in hallway
for forgetting homework
Mogami river
Second Haiku
Kono jikan
Ikani sugosu ka
Mogami-gawa
How to spend
this time
Mogami-gawa
Third Haiku
The last haiku she recited is actually a well-known haiku she copied Mogami river ending from.
samidare o
atsumete hayashi
Mogami-gawa
gathering the rains
of the wet season — swift
the Mogami River
And to think that she has the nerve to say: "and what does it even mean".
Poems
First Poem
Source for Japanese poems.
「そう、今必要なのは、昨日までの堕落した自分との別れ!
&集中力!」
──それは、
今日を悔いなく過ごすため。
明日を笑って過ごすため。
昨日涙を流しても。
今まで、何度打ちのめされても。
私は、諦めない。
──いつも、笑顔でいたいから。
遥か遠い海を行く船よ。遠い光を目指して走り続けろ。
ただ真っすぐに。ただ真っすぐに。
今、鎖を解き放て
[Sō, ima hitsuyōna no wa, kinō made no daraku shita jibun to no wakare!
to Shūchū-ryoku!]
sorewa,
Kyō o kuinaku sugosu tame
Ashita o waratte sugosu tame
Kinō namida o nagashite mo
Ima made, nando uchinomesa rete mo
Watashi wa, akiramenai
Itsumo, egao de itaikara
Haruka tōi umi o iku fune yo. Tōi hikari o mezashite hashiri tsudzukero
Tada massugu ni, Tada massugu ni
Ima, kusari o tokihanate
[What I need now is to say goodbye to my old self,
and to concentrate.]

To live today without regrets.
To live tomorrow with a smile,
even though I cried yesterday.
No matter how many times I fall,
Because I want to live, always smiling.
Boat headed out to the distant ocean,
keep on charging toward that distant light.
Forward, forward.
Cast off your chains.
Second Poem
attempt 試みる
Love 私の愛を
always いつだって離れていた
confirmation あなたの愛が
teleportation いま時を飛ぶ
だから
cosmos 宇宙(そら)を駆け抜けて
midnight submarine きみと乗りたいのさ
forever 永遠に
forever きみと
forever いつまでも・・・

~ゆっこ♥~
attempt Kokoromiru
Love Watashi no ai o
always Itsu datte hanarete ita
confirmation Anata no ai ga
teleportation Ima toki o tobu
dakara
cosmos sora o kakenukete
midnight submarine Kimi to noritai no sa
forever Eien ni
forever Kimi to
forever Itsu made mo・・・

~Yukko♥~
attempt try
Love my love
always I was always away
confirmation your love
teleportation I'm flying
so
cosmos The run through the universe
midnight submarine I want to ride with you
forever forever
forever ???
forever eternally・・・

~Yukko♥~
An alternate version (with slightly different kana/kanji but with the same romaji - pronunciation):
"Attempt" 試みる
"Love" 私の愛を
"Always" いつだって離れていた
"Confirmation" あなたの愛が
"Teleportation" 今時を飛ぶ
だから~
"Cosmos" 空を駆け抜けて
"Midnight Submarine" 君と乗りたいのさ
"Forever" 永遠に
"Forever" 君と
"Forever" いつまでも

~ゆっこ♥~
"Attempt" Kokoromiru
"Love" Watashi no ai o
"Always" Itsu datte hanarete ita
"Confirmation" Anata no ai ga
"Teleportation" Ima toki o tobu
dakara
"Cosmos" sora o kakenukete
"Midnight Submarine" Kimi to noritai no sa
"Forever" Eien ni
"Forever" Kimi to
"Forever" Itsu made mo・・・

~Yukko♥~
"Attempt" try
"Love" my love
"Always" I was always away
"Confirmation" your love
"Teleportation" I'm flying
so
"Cosmos" The run through the universe
"Midnight Submarine" I want to ride with you
"Forever" forever
"Forever" ???
"Forever" eternally・・・

~Yukko♥~
Ad blocker interference detected!
Wikia is a free-to-use site that makes money from advertising. We have a modified experience for viewers using ad blockers

Wikia is not accessible if you've made further modifications. Remove the custom ad blocker rule(s) and the page will load as expected.