The article is a Stub!
Yuuko is yelling because this article is not complete

Please expand the article as well as you can!
Nichijou: Uchuujin

Game Info
Japanese title
日常(宇宙人)
Developer
Vridge Inc.
Publisher
Kadokawa Shoten (Japan)
Nichijou: Uchuujin (日常(宇宙人), My Ordinary Life: Space Alien) is a PlayStation Portable video game developed by Vridge and published by Kadokawa Shoten and was released on July 28, 2011. The game follows a visual-novel style and is said to have about 300 different scenes and multiple endings in the entire game.
The official website is here
Gameplay
NOTE: the game just has the Japanese language only. You can choose any main character on the map. the game started at 9:00 am until 04:00 pm, every character you choose the time will move forward for 20 minutes.
How to play
Tutorial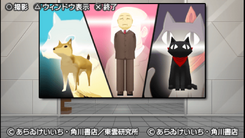 There's 3 Antennas who it will lead and affect the lead of the story and Roulette for determine your choice.
The antenna
Buddy: Raise up the main character for 10%
Sakamoto: Raise up the guest character for 10%
Principal: Raise up the Vote for 10%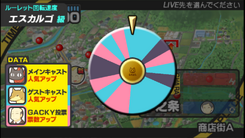 Roulette
This will determine what antenna will you get.

[[[PLACEHOLDER]]]
Gacky
[[[PLACEHOLDER]]]
Status
this is the status of the story who it will lead the ending. The most popular characters is the one who get the ending.
OMAKE
Gallery