なののおひるねおせんたく (Nano no Ohirune Osentaku) is the second character image song for Nano Shinonome.
Clip
Nano no Ohirune Osentaku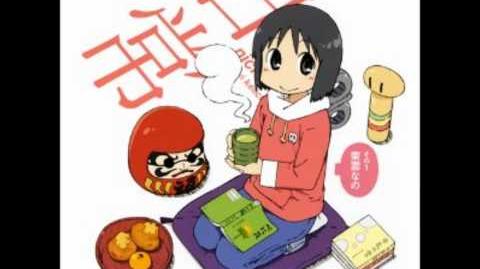 Lyrics
青空 太陽
いつもの 日曜日
むにゃむにゃ おひるね
どんな夢 みてるの

静かな うちに
すませよう おせんたく
目覚めた 時には
おやつ用意 してます

ふわふわ 浮かんでる 白い雲

羽根が はえたら
どこまで いこうかな
空を 見上げた
いつもの 日曜日

靴下 Tシャツ
そよ風 遊んでる
遠くで 聞こえる
かわいい 鳥の声

きらきら 輝いてる 毎日

もしも 願いが
ひとつ 叶うのなら
「こんな 日常
続けば いいのになぁ」

スヤスヤと 寝息をたてて
幸せそうに 眠ってる
髪の毛を そっと 撫でてみる
なぜか 眠たく なります

羽根が はえたら
みんなで 雲の上
おなか すくまで
お昼寝 しましょうね
ぽかぽか ひだまり
いつもの 日曜日
aozora taiyou
itsumono nichiyoubi
munyamunya ohirune
donna yume miteruno

shizuka na uchini
sumaseyou osentaku
mezame ta tokini ha
oyatsu youishi temasu

fuwafuwa uka nderu shiroi kumo

hane ga haetara
dokomade ikoukana
sora wo miage ta
itsumono nichiyoubi

kutsushita T shatsu
soyo kaze asonde ru
tooku de kiko eru
kawaii tori no koe

kirakira kagayai teru mainichi

moshimo negai ga
hitotsu kanau nonara
( konna nichijou
tsuduke ba iinoninaa )

suyasuya to neiki wotatete
shiawase souni nemutte ru
kaminoke wo sotto nade temiru
nazeka nemuta ku narimasu

hane ga haetara
minnade kumo no ue
onaka sukumade
o hirune shimashoune
pokapoka hidamari
itsumono nichiyoubi
The sun shines in the blue sky
Every Sunday.
Mumbling while you sleep
What are you dreaming about?
Ad blocker interference detected!
Wikia is a free-to-use site that makes money from advertising. We have a modified experience for viewers using ad blockers

Wikia is not accessible if you've made further modifications. Remove the custom ad blocker rule(s) and the page will load as expected.