The article is a Stub!
Yuuko is yelling because this article is not complete

Please expand the article as well as you can!
My Ballad is an ending-credits song for Episode 16 of Nichijou, performed by Sasaki Sayaka.
Clip
My Ballad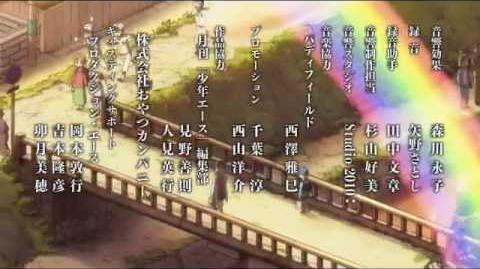 Lyrics
みんなで歌おう 心を一つにして
悲しい時も つらい時も
みんなで歌おう 大きな声を出して
はずかしがらず 歌おうよ

心燃える歌が
歌が きっと君のもとへ
きらめけ世界中に 僕の歌をのせて
きらめけ世界中に 届け愛のメッセージ
minna de utao kokoro o hitotsu ni shi te
kanashii toki mo tsurai toki mo
minna de utao ookina koe o dashi te
hazukashi gara zu utao yo

kokoro moeru uta ga
uta ga kitto kimi no moto he
kirameke sekaijuu ni boku no uta o nose te
kirameke sekaijuu ni todoke ai no messēji
Let's sing together with one heart
Even when we're sad or the hard times,
Let's a sing together
Do it in a loud voice.
Let's sing without being embarrassed.

A song that fires you up
Is a song that gets through to your own core
Make the world shining with our own song
Make the world shining with our own love message
Ad blocker interference detected!
Wikia is a free-to-use site that makes money from advertising. We have a modified experience for viewers using ad blockers

Wikia is not accessible if you've made further modifications. Remove the custom ad blocker rule(s) and the page will load as expected.