みおのカプってカプって萌えちぎれ (Mio no Kaputte Kaputte Moe Chigire "Mio's Capturing cute tears") is the first character image song for Mio. The song tells the story of Mio's crush for Sasahara senpai, and her complicated emotions stemming from it.

Although not listed in the credits, Misato and Sasahara are also featured in this song (in the first two verses and the last two verses). The booklet still recognizes their contributions by providing different colors for their parts:
Printed in green font - Misato sings the first verse and the last verse.
Printed in blue font - Sasahara sings the second verse and the penultimate verse.
Printed in purple font - Both sing together for the line:

愛に 溺れてく

(= I will drown in love) at the end of second verse and the last verse.
The song ends with Mio crying after the above line.
Clip
Mio no Kaputte Kaputte Moe Chigire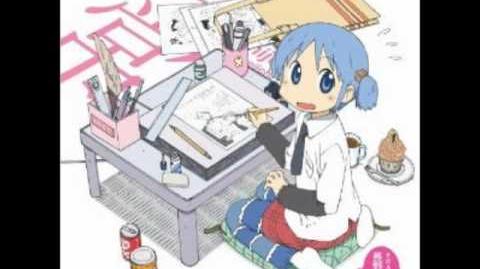 Lyrics
バカ! やめてくれっ!
スカした ジゴロやろう
僕は お前なんか
スキ、なわけないだろっ!!

もっと そばにこいよ?
かわいい やんちゃ坊主
まるで ちょうちんあんこう
愛に 溺れてく

あーたまんない 秘密の花園
やっぱこれが ほんとの愛よね
もっともっと 激しく 強く!
原稿用紙 進むわ 進むわ

やっばい こんな時間
学校モードに 変換! 変換!
長野原みお
属性・通常ノーマル 女子高生!

街を 歩いても
自然と カップリング
八百屋×おまわりさん
どっちが アレで アレなの!?
今日も 薄い本 徹夜で 作ってます
いつか 人気サークル
長野原大介先生!!

嗚呼 バレるわけに いかない
理解は されない きっと
何もかも すべて 失う!!!

だけど
ダメ! ダメ! やめられない!!
萌えちぎる オトコたち
ナマモノより 二次元
美しき 愛の世界

眼鏡 執事 鬼畜
先輩 後輩 御曹司
オトコたちの ワンダーランド
腐り気味 女子高生

学校では 絶対隠さなきゃ!
BL? …ベーコンレタス?
なんのことか わかんなーい
今 夢中なのは 韓流ドラマ!(笑)

なにあれっ!? 笹原先輩!!
中之条君と なにか喋ってる!!
なんかすごい 仲よさそー
…うわー 萌えるー

ダメ! ダメ! やめられない!!
萌えちぎる オトコたち
ナマモノより 二次元
美しき 愛の世界

眼鏡 執事 鬼畜
先輩 後輩 御曹司
オトコたちの ワンダーランド
腐り気味 女子高生

おい 照れるなよ
困った きかん坊だ
その おしゃべりな 口
そっと 閉じてやろうか?

やめろ! なんでだよ
せーたか ノッポ野郎!
心 ウラハラ模様
愛に 溺れてく
baka ! yametekuretsu !
suka shita jigoro yarou
bokuha o mae nanka
suki , nawakenaidarotsu !!

motto sobanikoiyo ?
kawaii yancha bouzu
marude chouchin'ankou
ai ni obore teku

a ^ tamannai himitsu no hanazono
yappakorega hontono ai yone
mottomotto hageshiku tsuyoku !
genkouyoushi susumu wa susumu wa

yabbai konna jikan
gakkou mo^do ni henkan ! henkan !
nagano hara mio
zokusei . tsuujou no^maru joshikousei !

machi wo arui temo
shizen to kappuringu
yaoya X omawarisan
docchiga are de are nano!?
kyou mo usui hon tetsuya de tsukutte masu
itsuka ninki sa^kuru
nagano hara daisuke sensei !!

aa bare ruwakeni ikanai
rikai ha sarenai kitto
nanimo kamo subete ushinau !!!

dakedo
dame ! dame ! yamerarenai !!
hou echigiru otoko tachi
namamono yori nijigen
utsukushi ki ai no sekai

megane shitsuji kichiku
senpaikouhai onzoushi
otoko tachino wanda^rando
kusari kimi joshikousei

gakkou deha zettai kakusa nakya !
BL? … be^konretasu ?
nannokotoka wakanna ^ i
ima muchuu nanoha kan ryuu dorama ! ( warai )

naniaretsu !? sasahara senpai !!
nakanojou kun to nanika shabette ru !!
nankasugoi naka yosaso ^
… uwa ^ hou eru ^

dame ! dame ! yamerarenai !!
hou echigiru otoko tachi
namamono yori nijigen
utsukushi ki ai no sekai

megane shitsuji kichiku
senpai kouhai onzoushi
otoko tachino wanda^rando
kusari kimi joshikousei

oi tere runayo
komatta kikan bou da
sono oshaberina kuchi
sotto toji teyarouka ?

yamero ! nandedayo
se ^ taka noppo yarou !
kokoro urahara moyou
ai ni obore teku
Baka! Just stop it!
Gigolo bastard who put on airs
Someone like you,
there's no way I'd like you!!

Come closer to me?
Cute naughty boy
Just like an anglerfish
you come to me, hooked on love

Ah it's irresistible, the secret flower garden
This is real love after all, isn't it
More and more fiercely, strongly!
My manuscript keeps going and going

Oh no, it's already this late!
School mode, transform! Transform!
Naganohara Mio
All attributes: average, a normal high school girl!

Even when I walk around town
I pair up couples out of habit
Greengrocer x policeman
Which is this and which is that?!
I'll stay up all night making doujinshi today too
Someday, in a popular circle
I'll be Naganohara Daisuke-sensei!!

Ah~ I can't let this be discovered
Surely no one will understand
Anything and everything, I'll lose it all!

But no! No! I'm not able to stop!!
Men that tear at my heart
Rather than living beings, two-dimensional
A beautiful world of love

Glasses, butler, devilish man
Senpai, kouhai, young master
A wonderland of men
A corrupted high school girl

At school I absolutely have to hide it!
BL? …Bacon lettuce?
I don't understand what that is at all!
Right now I'm obsessed with a Korean drama! (笑)

What's that?! Sasahara-senpai!!
He's talking about something with Nakanojo-kun!!
Somehow they seem really close~
Uwah~ how moe!

No! No! I'm not able to stop!!
Men that tear at my heart
Rather than living beings, two-dimensional
A beautiful world of love

Glasses, butler, devilish man
Senpai, kouhai, young master
A wonderland of men
A corrupted high school girl

Hey, don't act embarrassed
You troubled, terrible child
That mouth that won't stop talking—
shall I gently close it for you?

Stop it! Why is it you?
Stupidly tall bastard!
My heart's contrary pattern
becomes addicted to love