The article is a Stub!
Yuuko is yelling because this article is not complete

Please expand the article as well as you can!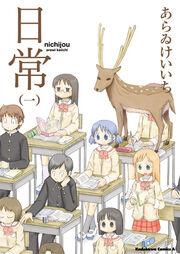 Nichijou (日常, Nichijō?, lit. Everyday) is a Japanese comedy manga by Keiichi Arawi (あらゐ けいいち, Arawi Keiichi?). The manga began serialization in the December 2006 issue of Kadokawa Shoten's manga magazine Shōnen Ace, and was also serialized in Comptiq between the March 2007 and July 2008 issues.
The manga series was initially licensed in North America by Bandai Entertainment along with its anime adaptation, but both releases have been cancelled.[1][2] It was later licensed for publication by Vertical in 2015.[3] In Finland, the manga is published as Arki (Finnish for "weekday") by Punainen Jättiläinen.[4]
The manga ended on December 10, 2015, with the publication of its tenth and final volume.[5]
In 2014, it was selected by Guillermo del Toro as one of the top comics out of Japan today for Asahi News' SUGOI Japan project.
List of Volumes
References
↑ "Bandai Entertainment Adds Nichijou, Gosick Anime", Anime News Network, July 30, 2011. Retrieved on July 31, 2011.

 

↑ "Bandai Entertainment Will Not Release Nichijō Manga Also", Anime News Network, January 3, 2012. Retrieved on January 3, 2012.

 

↑ "Vertical Adds Attack on Titan: Lost Girls Novel, Nichijō, FukuFuku: Kitten Tales Manga", Anime News Network, July 3, 2015. Retrieved on July 5, 2015.

 

↑ "Nichijou Punaiselta Jättiläiseltä", Anime (Finnish Magazine), October 14, 2011. Retrieved on February 1, 2012. (in Finnish)

 

↑ "Nichijō Manga to End in December With 10th Volume", Anime News Network, August 24, 2015. Retrieved on January 18, 2016.

 
Ad blocker interference detected!
Wikia is a free-to-use site that makes money from advertising. We have a modified experience for viewers using ad blockers

Wikia is not accessible if you've made further modifications. Remove the custom ad blocker rule(s) and the page will load as expected.