The article is a Stub!
Yuuko is yelling because this article is not complete

Please expand the article as well as you can!
Kousuke Oura is the vice principal of Tokisadame Highschool. He is also known as Kyoutou-sensei. It is a running gag that the principal is paranoid that he will take his job.
Appearance
Having the appearance of a normal old man, he has gray hair that goes towards the back of his head, and large circular glasses. He normally wears a white collared shirt, that covers a gray undershirt, a dark lime-green tie, long pants, and brown shoes.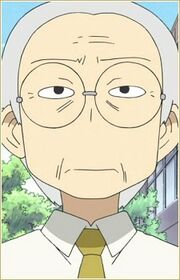 Image Gallery
Ad blocker interference detected!
Wikia is a free-to-use site that makes money from advertising. We have a modified experience for viewers using ad blockers

Wikia is not accessible if you've made further modifications. Remove the custom ad blocker rule(s) and the page will load as expected.