The article is a Stub!
Yuuko is yelling because this article is not complete

Please expand the article as well as you can!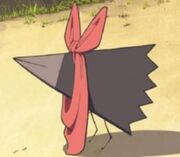 Karasu is an oddly-shaped crow found by Hakase. He spent a day at Shinonome Laboratory and uses Sakamoto's scarf to talk, which Hakase gave to him while Sakamoto was sleeping.
Although he was able to understand that Sakamoto wanted his scarf back, he did nothing to comply with this, instead enjoying his time with the kids. He eventually took the scarf with him when he took off, much to Sakamoto's horror.
Note: Other crows in this series look and behave normally.
Personality
Unlike the elitist Sakamoto, Karasu is very polite and accommodating to others, and got along quite well with Nano Shinonome and Hakase.
Ad blocker interference detected!
Wikia is a free-to-use site that makes money from advertising. We have a modified experience for viewers using ad blockers

Wikia is not accessible if you've made further modifications. Remove the custom ad blocker rule(s) and the page will load as expected.