About This Song
怪獣のバラード (Kaijuu no Ballad) is an ending song for episode 17 of Nichijou performed by Yukko, Mio and Mai.
Original Version
Before its initial release on Sep 25, 1972, Kaijuu no Ballad (Monster Ballad) by chorus group Young 101 appeared at NHK's variety show.
True to its root, this song is often picked in elementary and junior high school chorus contests[1].
Clip
Kaijuu no Ballad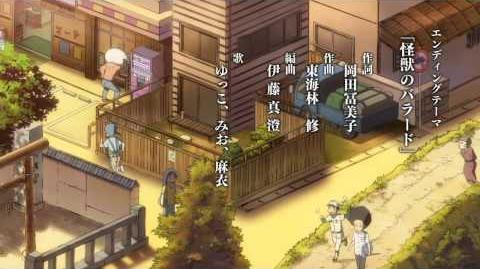 Lyrics
真赤な太陽 沈む砂漠に
大きな怪獣が
のんびり暮してた
ある朝 目覚めたら
遠くにキャラバンの
鈴の音聞こえたよ
思わず叫んだよ
海が見たい 人を愛したい
怪獣にも 心はあるのさ
出かけよう 砂漠すてて
愛と海のあるところ

あたらしい太陽は燃える
愛と海のあるところ
References
↑

A sample on Youtube, watch: VwMbRVNsxZo
Ad blocker interference detected!
Wikia is a free-to-use site that makes money from advertising. We have a modified experience for viewers using ad blockers

Wikia is not accessible if you've made further modifications. Remove the custom ad blocker rule(s) and the page will load as expected.