ヘッドライト・テールライト

Track
2
Song by 中島みゆき (Nakajima Miyuki)
Song Info
Romaji
Headlight, Taillight
Duration
?
Lyric
中島みゆき (Nakajima Miyuki)
Composition
中島みゆき (Nakajima Miyuki)
Genre
J-Pop, Anime Song
Album Info
Album
地上の星/ヘッドライト・テールライト - (Stars on Earth) / Headlight, Taillight
Release
Jul 19, 2000
Record
Yamaha Music Communications
Catalog
YCDW-1
Navigation (Master List)
Previous song
None
Next song
None

ヘッドライト・テールライト (Headlight, Taillight) is an insert song in episode 19.

The album is a single from Miyuki Nakajima, which is her first in a year and 8 months. Contains 2 songs: Chijou no Hoshi (An earthly star) which is the theme song for a TV show called Project X Chosenshatachi (The Challengers) and Headlight Taillight which is the ED theme for the same show.
Clip
Headlight, Taillight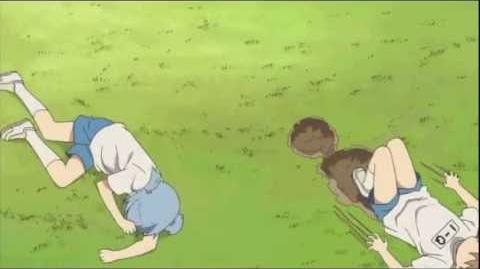 Lyrics
Find the romaji and translation at lyrics.wikia. Due to this we won't copy-paste anything from them.
語り継ぐ人もなく
吹きすさぶ風の中へ
紛れ散らばる星の名は
忘れられても

※ヘッドライト・テールライト 旅はまだ終わらない
ヘッドライト・テールライト 旅はまだ終わらない※

足跡は 降る雨と
降る時の中へ消えて
称える歌は
英雄のために過ぎても

(※くり返し)

行く先を照らすのは
まだ咲かぬ見果てぬ夢
遥か後ろを照らすのは
あどけない夢

(※2回くり返し)
Ad blocker interference detected!
Wikia is a free-to-use site that makes money from advertising. We have a modified experience for viewers using ad blockers

Wikia is not accessible if you've made further modifications. Remove the custom ad blocker rule(s) and the page will load as expected.