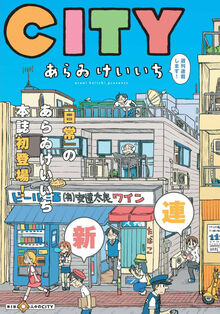 CITY is Keiichi Arawi's newest manga, first published on September 29, 2016. It is a comedy manga serialized in the seinen magazine Weekly Morning. The story follows the bizzare lives of the people living in an unspecified city in Japan. The protagonist is Midori Nagumo, a penniless college student who moved to the city. It is presented as a spiritual successor to Nichijou.
Image Gallery
The
City Wiki
is currently under construction.
Ad blocker interference detected!
Wikia is a free-to-use site that makes money from advertising. We have a modified experience for viewers using ad blockers

Wikia is not accessible if you've made further modifications. Remove the custom ad blocker rule(s) and the page will load as expected.