The article is a Stub!
Yuuko is yelling because this article is not complete

Please expand the article as well as you can!
あのすばらしい愛をもう一度

Track

Song by
Song Info
Romaji
Ano Subarashii Ai Wo Mou Ichido
English title
Let Me Feel That Splendid Love Once More
Duration
1:32
Lyric
Kitayama Osamu
Composition
Kato Kazuhiko
Genre
J-Pop, Anime Song
Album Info
Album
Nichijou no Gasshou Kyoku
Release
Oct 5, 2011
Record
Lantis
Catalog
LACA-15151
Navigation (Master List)
Previous song
Yasei no Uma
Next song
Sudachi no Uta

あの素晴しい愛をもう一度 (Ano Subarashii Ai Wo Mou Ichido) is an ending-credits song from Episode 20 of Nichijou. First released in 1971, the song has been covered many times in Japan.
Clip
Ano Aubarashii Ai Wo Mou Ichido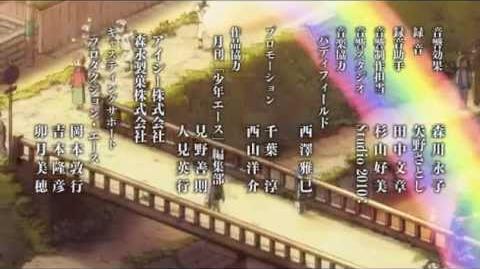 Lyrics
あの素晴しい愛を もう一度

命かけてと 誓った日から
すてきな思い出 残してきたのに
あのとき 同じ花を見て
美しいと言った 
二人の心と心が
今は もう通わない
あの素晴しい愛を もう一度
あの素晴しい愛を もう一度
ano subarashii ai wo mou ichido

inochi kaketeto chikatta hi kara
sutekina omoide nokoshitekita noni
ano toki onaji hana wo mite
utsukushii to itta
futari no kokoro to kokoro ga
ima wa mou kayowanai
ano subarashii ai wo mou ichido
ano subarashii ai wo mou ichido
Let me feel that splendid love once more

Since the day we swore with our lives
Only wonderful memories were left
That time, we looked at the same flowers
And called them beautiful
Your heart and my heart
Are not connected anymore now
Let me feel that splendid love once more
Let me feel that splendid love once more