安中のぴょん!ぴょん!エー!! (Annaka no Pyon!Pyon!E!!) is the character image song for Annaka. As the title indicates, the only words sung are "pyon" and "e(h)?".
Pyon is Japanese onomatopoeia for the sound of a rabbit hopping. In Episode 2, Izumi Sakurai asks Annaka about her giant bow, to which she acts like a bunny and replies "pyon!"
In this context, E (or eh) is an interjection indicating great astonishment (akin to wha- or huh), and is Annaka's catchphrase. (Some fans affectionately call her Eh-chan as a result.)
Clip
Annaka's Pyon!Pyon!E!!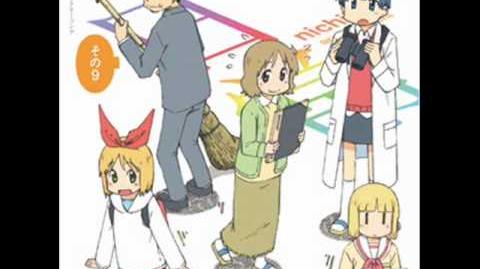 Lyrics
エーーー!!
ぴょんぴょぴょぴょんぴょ ぴょんぴょんぴょぴょん
ぴょんぴょぴょぴょんぴょ ぴょんぴょ ぴょんぴょん
ぴょんぴょぴょぴょんぴょ ぴょんぴょんぴょぴょん
ぴょんぴょぴょぴょんぴょ ぴょんぴょ ぴょんぴょん(ぴょん!)

ぴょんぴょぴょぴょんぴょ ぴょんぴょんぴょぴょん
ぴょんぴょぴょぴょんぴょ ぴょんぴょ ぴょんぴょん
ぴょんぴょぴょぴょんぴょ ぴょんぴょんぴょぴょん
ぴょんぴょぴょぴょんぴょ ぴょんぴょ ぴょんぴょん(ぴょん!)

エー!!エー!!エー!!エー!!エー!!エー!!エー!!エー!!
エー!!エー!!

ぴょんぴょぴょん! (ぴょん!)

ぴょんぴょぴょぴょんぴょ ぴょんぴょんぴょぴょん(エー!)
ぴょんぴょぴょぴょんぴょ ぴょんぴょ ぴょんぴょん(エー!)
ぴょんぴょぴょぴょんぴょ ぴょんぴょんぴょぴょん(エー!)
ぴょぴょぴょぴょぴょぴょ ぴょーぴょぴょん ぴょんぴょん

ぴょんぴょぴょぴょんぴょ ぴょんぴょんぴょぴょん(エー!)
ぴょんぴょぴょぴょんぴょ ぴょんぴょ ぴょんぴょん(エー!)
ぴょんぴょぴょぴょんぴょ ぴょんぴょんぴょぴょん(エー!)
ぴょぴょぴょぴょぴょぴょ ぴょーぴょぴょん ぴょんぴょんぴょーん(エー!)

ぴょんぴょんぴょぴょぴょぴょん ぴょんぴょぴょん!

ぴょんぴょぴょぴょんぴょ ぴょんぴょんぴょぴょん
ぴょんぴょぴょぴょんぴょ ぴょんぴょ ぴょんぴょん
ぴょんぴょぴょぴょんぴょ ぴょんぴょんぴょぴょん
ぴょんぴょぴょぴょんぴょ ぴょんぴょ ぴょんぴょん(ぴょん!)

ぴょんぴょぴょぴょんぴょ ぴょんぴょんぴょぴょん
ぴょんぴょぴょぴょんぴょ ぴょんぴょ ぴょんぴょん
ぴょんぴょぴょぴょんぴょ ぴょんぴょんぴょぴょん
ぴょんぴょぴょぴょんぴょ ぴょんぴょ ぴょんぴょん(ぴょん!)

エー!!エー!!エー!!エー!!エー!!エー!!エー!!エー!!
エー!!エー!!

ぴょんぴょぴょん! (ぴょん!)

ぴょんぴょぴょぴょんぴょ ぴょんぴょんぴょぴょん(エー!)
ぴょんぴょぴょぴょんぴょ ぴょんぴょ ぴょんぴょん(エー!)
ぴょんぴょぴょぴょんぴょ ぴょんぴょんぴょぴょん(エー!)
ぴょぴょぴょぴょぴょぴょ ぴょーぴょぴょん ぴょんぴょん

ぴょんぴょぴょぴょんぴょ ぴょんぴょんぴょぴょん(エー!)
ぴょんぴょぴょぴょんぴょ ぴょんぴょ ぴょんぴょん(エー!)
ぴょんぴょぴょぴょんぴょ ぴょんぴょんぴょぴょん(エー!)
ぴょぴょぴょぴょぴょぴょ ぴょーぴょぴょん ぴょんぴょんぴょーん

ぴょぴょぴょんぴょん ぴょっぴょ ぴょんぴょん(エー!)
ぴょぴょぴょんぴょん ぴょっぴょ ぴょんぴょん(エー!)
ぴょぴょぴょんぴょん ぴょっぴょ ぴょんぴょん(エー!)
ぴょぴょぴょんぴょん ぴょんぴょんぴょん(エー!)

ぴょぴょぴょんぴょん ぴょっぴょ ぴょんぴょん(エー!)
ぴょぴょぴょんぴょん ぴょっぴょ ぴょんぴょん(エー!)
ぴょぴょぴょんぴょん ぴょっぴょ ぴょんぴょん(エー!)

ぴょん! ぴょん! ぴょんぴょんぴょん!(エー!)

ぴょんぴょぴょぴょんぴょ ぴょんぴょんぴょぴょん(エー!)
ぴょんぴょぴょぴょんぴょ ぴょんぴょ ぴょんぴょん(エー!)
ぴょんぴょぴょぴょんぴょ ぴょんぴょんぴょぴょん(エー!)
ぴょぴょぴょぴょぴょぴょ ぴょーぴょぴょん ぴょんぴょん

ぴょんぴょぴょぴょんぴょ ぴょんぴょんぴょぴょん(エー!)
ぴょんぴょぴょぴょんぴょ ぴょんぴょ ぴょんぴょん(エー!)
ぴょんぴょぴょぴょんぴょ ぴょんぴょんぴょぴょん(エー!)
ぴょぴょぴょぴょぴょぴょ ぴょーぴょぴょん ぴょんぴょんぴょーん

エーーーーー!!
Do you seriously need one?
Do you seriously need one?
Ad blocker interference detected!
Wikia is a free-to-use site that makes money from advertising. We have a modified experience for viewers using ad blockers

Wikia is not accessible if you've made further modifications. Remove the custom ad blocker rule(s) and the page will load as expected.